A bit late updates here. We're super excited to share bunch of new product features with you. 2022 was big in the sense that we invested a lot of effort to come up with our beta release. Well that paid off very well now Herogi became all-in one digital marketing solution suite for your brand. Okay enough chit chat let us jump into the changes 😍
Pricing Updates
First of all, one of the big updates come to pricing module. We wanted to democratize expensive marketing solutions in industry and make it more affordable for any size of brands. If you spent enough time to find a customer engagement solution for your company, you should already know that it's not cheap. It starts with 7 figures annually and easily reach to 8 figures if you wanted to unlock more features or usage. Well we made it simple it's cheaper than Starbucks coffee on daily basis.
Easy to use and Onboard
Well let's say that somehow you convinced your CFO or yourself as founder to pay 7-8 figures for a marketing solution, things are not finished there. These solutions we don't want to name, will not work out of box. You need a dev team to integrate, onboard your company and keep it running going forward if you lucky to have an engineering team (for now let's forget about opportunity cost of using your team on non core mission) or if you're not lucky you will hire an integration partner welcome to the complex business deals, distraction and more resource leak to unproductive activities.
Well with our Beta version we aimed to simplify that you don't need complex integration supports any more. We'll give you a simple JS code once it's in your website you're good to go, anyone can do that even you as a founder but if you can't our team will do it for you free. Once your data floats Herogi, your marketing team is ready to goooo 🚀🚀
Tell me the Features
CDP: Audience Management & Dynamic Segments
If you need to pick one keyword to define digital marketing activities it should be Audience. It's where your effort should start and where your effort should end. Anything in between is your craft as customer marketing team, performance marketer, CMO, customer experience lead, email marketer etc.
You're paying tons of money to Google, Facebook ads, you're optimizing for your CTR, pay per click you're burning thousands of dollars to bring people into your digital shop, website but then what they churn, they don't convert, they get in lost in a busy website design.
Herogi CDP (Customer Data Platform) solves this. We get every customer visit your brand websites we store it in your account so that you can retarget them, you can improve their lifetime journey and eventually they can benefit from your offerings.
Once you include our JS code in your website Herogi can identify these people and you can use our rich dynamic segmentation to group them into reasonable set of categories and customize their experience.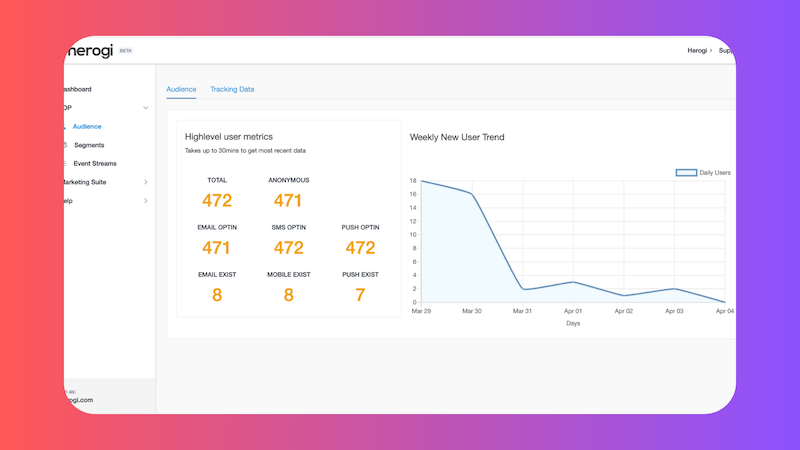 We collect most of the information your company need such as firstname, lastname, country, timezone, gender etc but also you can customize the information you need for your specific use cases. Even better you can now segment your customers based on this known or customer attributes dynamically. Let's say that you have a customer it's email opt-in status change from opt-in to opt-out well she'll be removed from segment 1 and will be part of the new segment which only targets opt-out customers.
Herogi CDP will give you all the details you need for your specific customer activity with Streaming Data functionality. All the generic and custom events generated for the customer and it's meta-data will be available for you to understand behavior and debug your campaigns or design new campaigns.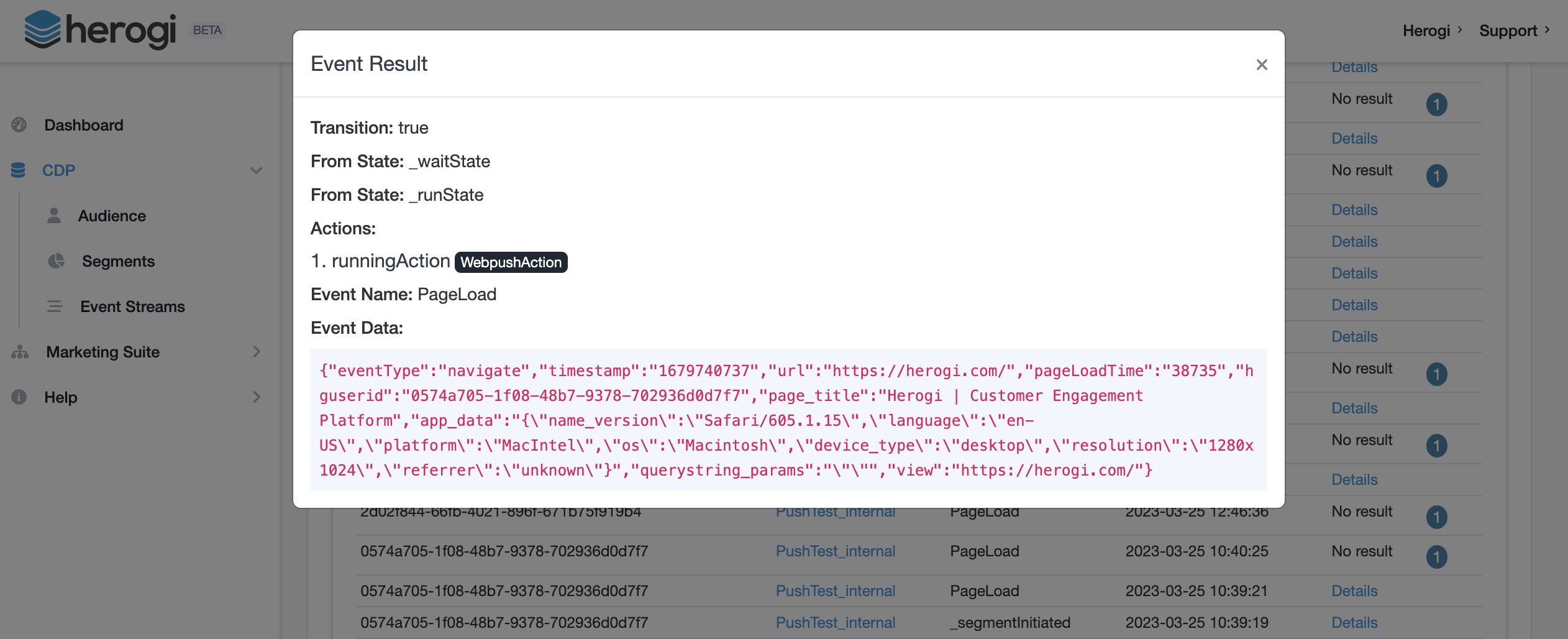 Marketing Suite
Campaign Management
We listened you. Complex scenarios is good but some use cases are very simple. You just want to pick your segment, define your trigger logic and blast the messaging at the right moment.
With new Marketing Suite feature now you can easily launch your ideas with ease. It supports one time ad-hoc, triggerred or scheduled campaigns.
One Time Ad-hoc Campaigns
This is very simple use case; you have a segment and you have one-time action needs to run for the segment. Let's say that you send a product update to all your customers or you have compromised passwords and you want to send your customers to reset password page.
Trigger Campaigns
This campaign type triggers when customer performs particular event. Let's say that all the users speak Chinese and if they click a button, register successfully, abandon a cart.
Scheduled Campaigns
Let's say that you want to plan a campaign to run at certain point in the future. You will be running next week wed huge promo campaign. You want to announce it on monday and also early wednesday so that you can unlock full potential. You can draft your campaign and scheduled it to trigger on the time you specify.
Wait it doesn't end here; you can also define cron job style campaigns; every wed on 10:00am or every 1st day of the month; this is great for newsletter or recurrent type of campaigns.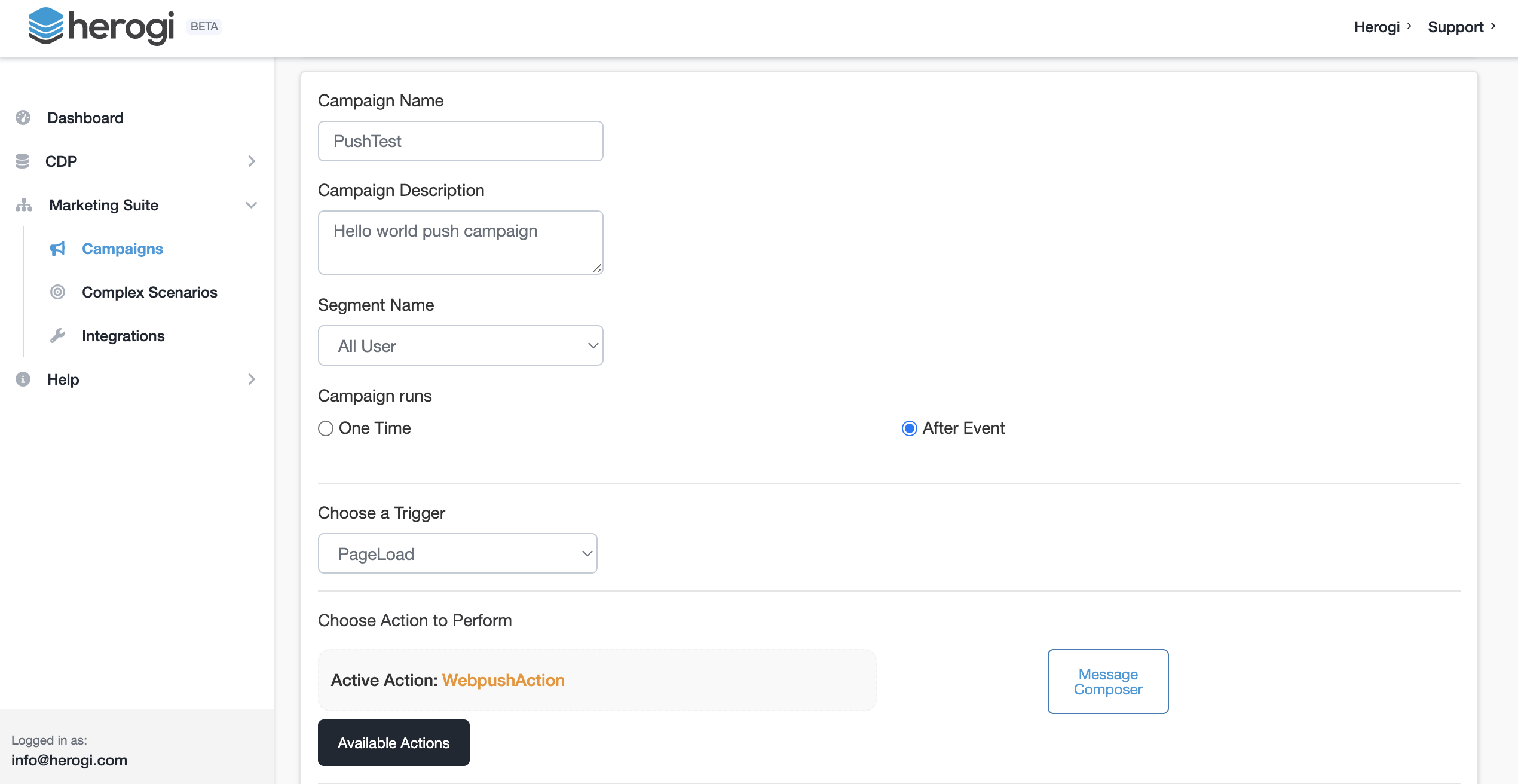 Reporting
You created your first campaign, you deployed successfully, you test it it looks all good. What's next?
Of course now as a data driven marketer you want to see how it's performing. Well we cover you. You can see your campaign performance on campaign dashboard and you can always refer back to event streams for more detailed breakdown of each events.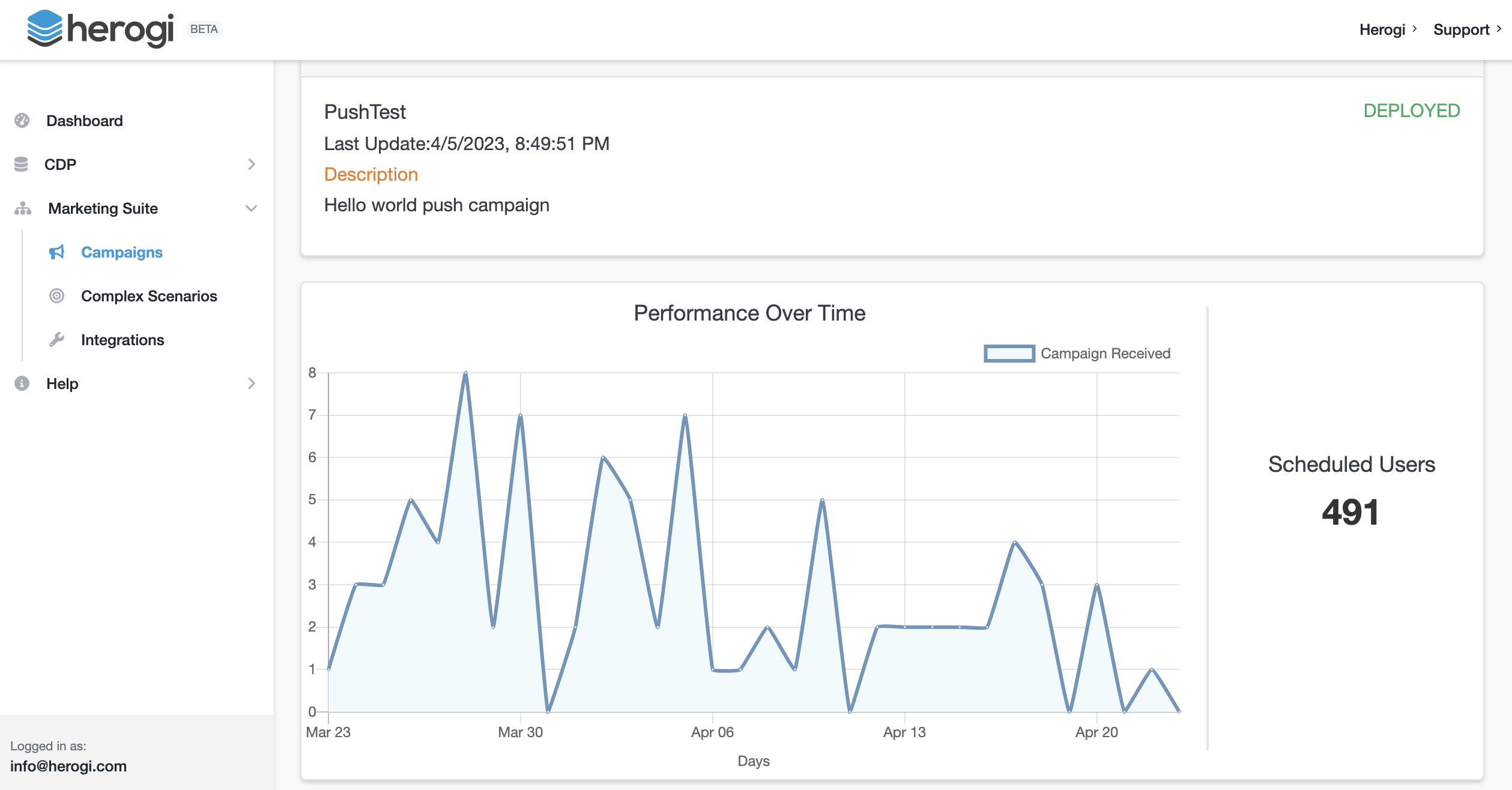 Complex Scenarios
Not always one fit all. That's why on top top of easy to use campaigns we have also complex scenarios. You can build multi-step complex scenarios. This is wildest dream of any innovative brand. You want to customize, you want to experiment, you're thinking out of box. We support. With complex scenarios you can;
Consume multiple events
Add complex validations on any data and branch out to different states
Run multiple and different actions on each state, such as email and then sms or push
Complex timers and schedulers
Consume data from external APIs during execution
Store data in memory to access later
Aggregation; such as total order value since last 3 days or number of clicks since new year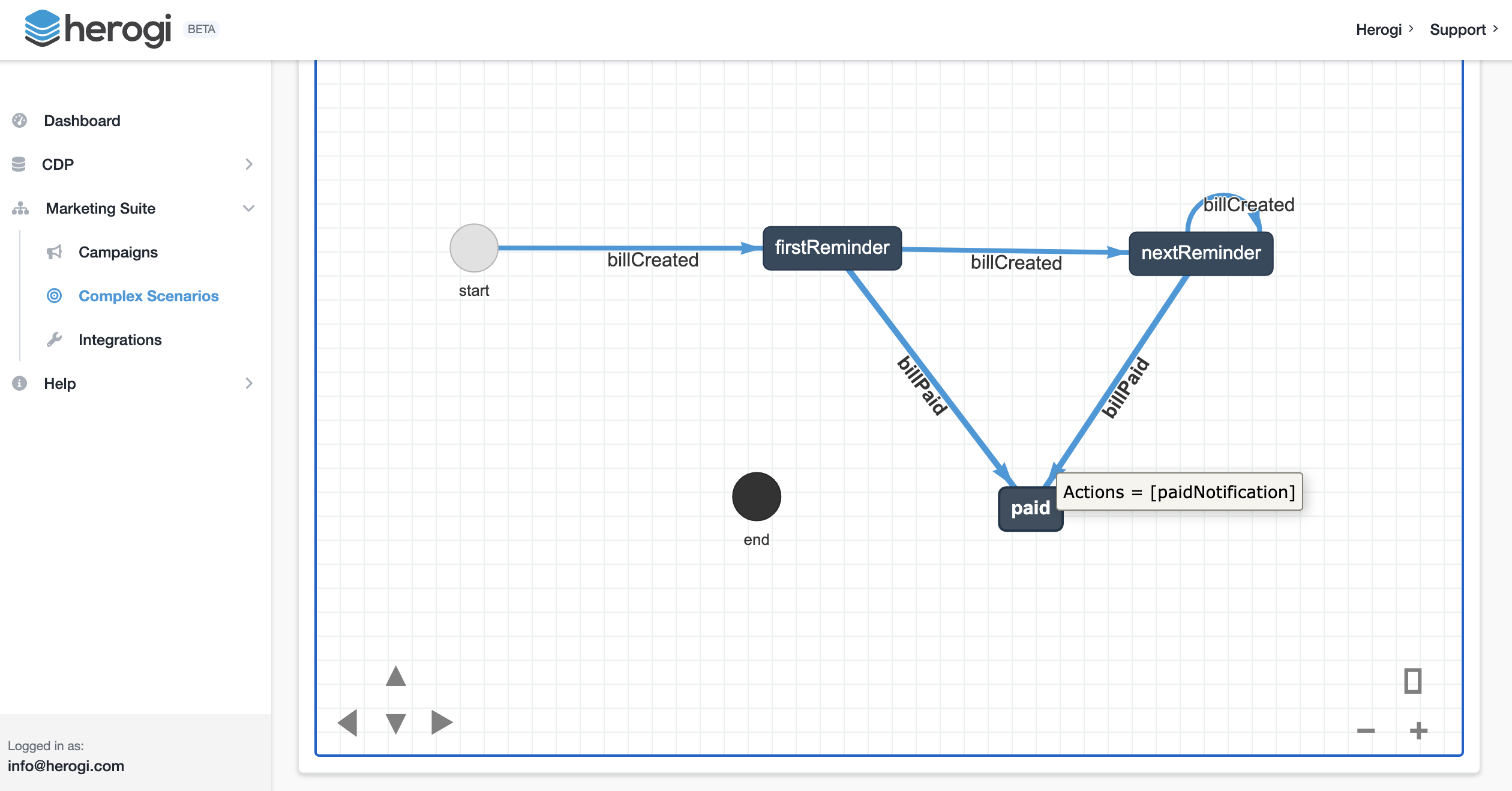 More Integrations
One thing over the course of period we learn, our customers all have different type of channels work for them. Some are B2C, retail they run email campaigns and some are B2B and they have CRM enabled sales cycle and they need sales team touch to close. after sending bunch of SMS via Twilio. When you consider all different type of actions required for different type of use cases. With that in the mind we keep adding more actions. Here some which we think you'll love;
Web Push notifications
Hubspot integration
Zendesk integration
Http Integration (any web service provide an API)
Summary
Well there are no final worlds, we're listening you and shipping. There are more things in the kitchen we cooking, stay tuned to hear from us more. AI enabled campaigns, Woocommerce, Shopify integrations are on the way.
If you want to learn more about these features and use it in your brand or you have an idea but you don't know where to start; don't be stranger get in touch with us, we can help you.